Description
Key Features
Low footprint with optimal accessibility.
Flexible installation options like Membrane based & Resin based system.
Constructed from 316/L stainless steel, internal surface finish upto 0.38 Ra.
CGMP, GAMP and 21 CFR Complaint system design based on ASME, ASTM, BPE, ISPE, WHO, ENVISA, MHRA, guideline.
Permanent Flushing.
Automatic hot water sanitization, shut down & recirculation mode, maintenance & night mode.
Flexible system integration with other technologies.
Designed for robust and safe operation.
Validation to regulatory and client standards or as per GMP, cGMP, ISPE, USP, EP, JP, IP etc. guidelines.
Minimizes waste generation, reuse and recycle.
Capability to handle high temperature ramp Up / Down.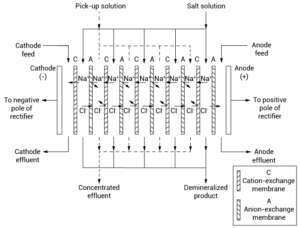 Feed Water Specifications
Feed Water Conductivity Equivalent,
including CO2 and Silica
< 40 µS/cm
Temperature
41 —113°F (5-45°C)
Inlet Pressure
20 — 100 psi (1.4 — 7 bar)
Maximum Free Chlorine (as CL2)
<00.02 ppm
Iron (Fe)
<0.01 ppm
Manganese (Mn)
<00.01 ppm
Sulfide (S-)
<00.01 ppm
pH
4 – 11
Total Hardness (as CaCO3)
<01.0 ppm/td>
Dissolved Organics (TOC as C)
<00.5 ppm
Silica (SiO2)
<01.0 ppm
| Technical Fitures | Benefits |
| --- | --- |
| Green & Energy efficient technology | Lower operating cost |
| Costumized Systems | System most suited for your application |
| Skid mounted design | Lower foot print, saving of production srea |
| Build CIP System | Easy & Fast cleaning |
| Wide choice of membrane MOC & Geometries | Selection of best membrane for your application |
| Complete Turnkey Projects management with process guarantee | One stop solution for all your needs |